Our Master's in Applied Data Science is a rigorous exploration of the four parts of data science: Machine Learning, Data Visualization, Databases, and Statistics. The students spend three semesters with their cohort in small, challenging classes. The last semester is spent in a paid practicum doing data science with one of our industry partners. With 100% job placement and a $95k median salary, the MS in Applied Data Science program is a great return on your investment.
Why Study Data Science at New College?

100%
Graduate Field Placement within 3 months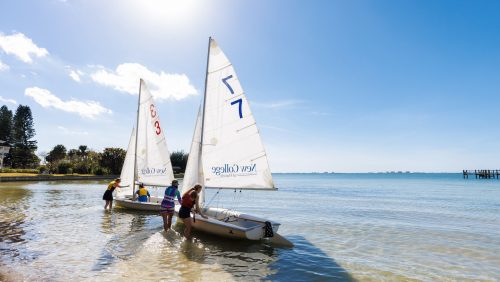 $95k
Median Post-Graduate Salary

Top 25
Ranked in "Best Data Science Master's Programs in 2022" by Fortune Magazine
What do Students and Alumni Say?

Ashley Brockway
Data Scientist Unum, Class of 2021
"I applied to the Data Science program to expand my toolkit working with data. I increased my confidence in computer programming and statistics, and was able to apply theoretical material in self-directed projects with my classmates. I expanded my network by meeting with alumni and bonding with my cohort over homework and group study sessions. At a high level, the program is job-focused but, in my experience, I learned strong problem-solving skills that can be applied across many projects in both work and life."

Adriana Souza
Data Scientist TechData Corp, Class of 2019
"My favorite thing about the graduate program was the fact that it was a cohort-based education. We were all from different backgrounds. Me, coming from a math and economics background, I wasn't the best programmer. So, I needed to lean on others around me to help me build those skills up and I used my math skills to help others who didn't come with as much math. Being so close to my colleagues and professors was a really wonderful experience."

Tanner Robart
Data Scientist Researcher U.S. Department of Transportation, Class of 2017
"The graduate program at New College were some of the best years of my life. I learned technical skills that still enable me to work in modern and cloud based computing environments. Getting so much 1 on 1 time to work and talk with my professors made sure I always had resources and help when I needed it. Working with real businesses provided hands-on consulting experience and a broad exposure to the diverse practices and needs of clients."
Master's in Applied Data Science Program
Lauded by Fortune Magazine as a "Best Master's in Data Science Programs in 2022″, the M.S. Applied Data Science graduate program is a two-year 36-credit program, which includes 11 full-semester 3-credit courses, two required practicums (one being a full-semester 3-credit course), industrial seminar series in the first three semesters and industrial workshops during the January interterm. The curriculum offers a blend of interdisciplinary theory and practical application of skills through courses, such as Exploratory Data Analysis, Applied Machine Learning, and Data Visualization. Our students gain experience applying both Python and R to develop solutions for our corporate partners as a part of the rigorous curriculum.
In the final semester, students will implement their skills and obtain industry experience with a paid practicum working full-time as part of a data science team at one of our corporate partners, or at another company or organization of their choice. The practicum course will be completed under Data Science faculty supervision and is a required component of the program.  At the end of the program, students would have gained the industry knowledge, technical skills, and real-world experience required to start their successful careers.
"Students can expect a very well-rounded education from the data science program. Whether it be in algorithms, statistics or general programming, you'll have all the things you'll need to be successful as a data scientist."
Adam Lashley
M.S. in Applied Data Science Student
Fall 2024 Applications Now Available
Are you ready to pursue an in-demand, high-paying career changing the world through big data? Start your application today!
Graduate Admissions
Real-World Experience
Our curriculum is developed with our corporate partners and industry experts as the applications of big data evolve. Students will get hands-on experience with real data sets from a variety of industries, and complete a paid, full-time practicum, often with our partners or an organization of their choice.
Corporate Partners
Advisory Board
See the executives and professionals committed to enhancing knowledge and practice of Data Science and Business Analytics for our program as part of the M.S. Applied Data Science Advisory Board. 
MS Applied Data Science Faculty & Staff
Accreditation
New College of Florida is accredited by the Southern Association of Colleges and Schools Commission on Colleges to award Bachelor's degrees and Master's in Applied Data Science degrees.
Contact the Commission on Colleges at 1866 Southern Lane, Decatur, Georgia 30033-4097, telephone 404-679-4500, at www.sacscoc.org for questions about the accreditation of New College of Florida.
Catalog & Academic Calendar
Study by the Seaside
Regularly ranked among the best places to live in the US, Sarasota is famous for its beautiful Gulf beaches, plethora of arts and cultural institutions, and year-round warm weather.
Sunny Sarasota