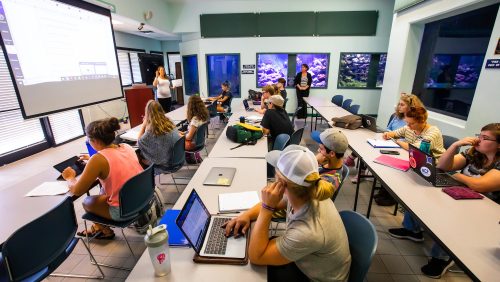 New College Faculty
Here your professors know you by name. They will be your mentors, connecting you to research and community engagement opportunities.

Jayne Gardiner
Marine Biology
Professor Gardiner, director of the Pritzker Marine Biology Research Center, discusses how New College students can dive into real-world research as early as their first year.
Watch the video

Diego Villada
Theatre & Performance Studies
Professor Villada from the Theatre, Dance & Performance Studies Department talks about how faculty actively engage with students as they explore their interests and acquire new knowledge.
Watch the video

Queen Zabriskie
Sociology
Professor Zabriskie established Black History Month at New College and oversees the month-long series of concerts, lectures, workshops, and performances that celebrate Black life.
Read the story
Academic Support Services
Find a range of programs, resources and services to help you thrive at New College and beyond.
Academic & Career Services
Research & Academic Facilities
Our modern educational and research facilities are equipped with the tools and resources to help you realize your academic goals—whether you are in the lab analyzing microplastic pollution or installing an art exhibit in a studio space.