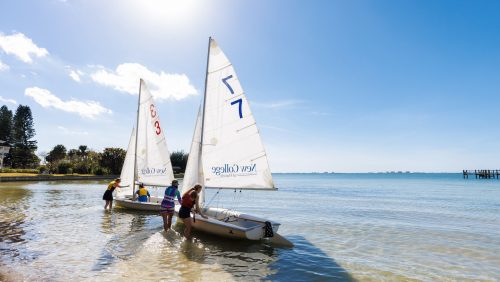 Check out Sarasota Bay and the surrounding area by kayak, stand up paddleboard, sailboat, or boat! Whether you're a beginner or an experienced sailor, you'll find programs and lessons throughout the year to meet your needs.
Location & Hours
The New College Waterfront Program and Sailing Team is located on the historic Caples Campus behind the Mildred Sainer Arts Pavilion at 5313 Bay Shore Road. This is just south of The John & Mable Ringling Museum of Art with a beautiful view of Ca' d'Zan, the Venetian Gothic mansion of circus magnate John Ringling.
Check Novoconnect for Current Hours of Operation
While the beach is open sunrise to sunset every day, the dock and boathouse are subject to change during school breaks and due to bad weather.
The Beach
Open every day sunrise to sunset! Wifi is available, it's a great place to work or just enjoy the bay!
Marine research and recreation dock
The 400+ foot dock serves the marine biology program's vessels including the 32-foot pontoon research boat, Limbatus. It also provides boat slips for recreational boats, and two boat lifts for individuals with mobility issues. The dock was built in 2021 with environmentally-friendly materials, 50 feet south of The Ringling museum sea wall - a site selected for its environmental compatibility and proximity to deep water.
The Boathouse
Campus Recreation staff are eager to get you out on the water! The waterfront also has wifi and is a great place to relax and study.
The Sailing Team
Join the sailing team - no experience necessary, we will teach you! Inquire in person at the boathouse to learn more.
Events & Activities
The Waterfront holds events including flotillas, dock days, and boathouse open mics. Upcoming events are posted on Novoconnect.
Pay For Membership or Day Passes
Paying for membership and day passes payment at the New College of Florida recreation spaces (Recreation Center and Waterfront) please click here.