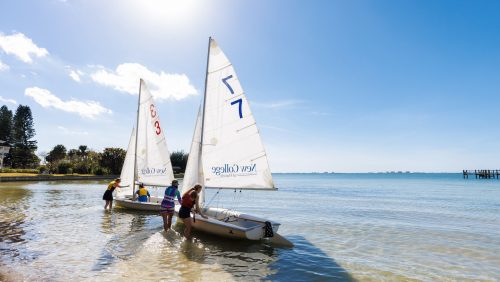 Learn about costs, how to make an enrollment deposit, pay your tuition, declare residency, and find tuition & fees exemption or waiver information.
View Estimated Student Budgets for...
Make Your Enrollment Deposit
If you need an extra moment to catch your breath and commit, let us know.  We want you to be ready for this amazing next step, and when you are, we are SO ready for you. Please don't hesitate to reach out to our admissions counselors, and they will answer any questions you may have. Tuition deposits are non-refundable.
You can submit your deposit in any of the following ways:
Pay online (using a credit card). We accept American Express, Discover, Visa, and MasterCard; or
By mail, send your name and New College ID number with a $200 check (made out to New College of Florida); or
By mail, if the enrollment deposit presents a hardship, return the Request for Waiver of Enrollment Deposit.
Instructions for paying your enrollment deposit online:
If you have already created your MyNCF App Gateway account (Creation of your NCF Account Part 1 & 2 emails previously sent) sign in to https://myncf.ncf.edu and access the New Cleis tile.
If you have not created your MyNCF App Gateway account, use the following instructions to create your account:
Go to: https://myncf.ncf.edu
Enter the NetID and initial password you received in the 'Creation of your NCF account PART 1 & 2' emails (check your spam folder)
Set up your enrollment challenge answers (security questions)
When prompted, add a secondary/alternate email address that is not your @ncf.edu address. This address will be used for account recovery in case you forget your password. Please note, the secondary email is not subject to Sunshine laws.
Check your secondary email address. You should receive an email from PortalGuard with a one-time password to confirm ownership of the email account.
Copy and paste the one-time password from your email into the dialog box
Accept the Terms of Use to be taken to the MyNCF App Gateway
Click on the NewCleis tile
Click on View and Pay My Bill
Click on "make a payment" in the menu bar to the left
Select "New Student Enrollment Deposit"
Select the term in which you plan to attend
If you have any questions, call Admissions at 941-487-5000 ext. 1 or email admissions@ncf.edu
Tuition & Fee Information
Financial Aid & Scholarships
Learn about the different types of funding available to students.
Financial Aid