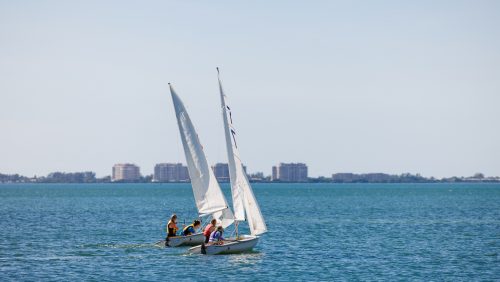 New College students are known for being scholars, but there are plenty of scholar-athletes here! You'll have your pick of a wide range of competitive teams with impressive coaches and student-lead club sports, and can even start your own!
The combination of determined students and motivated coaches provide an incredible atmosphere, where students who are interested in sports have the opportunity to play at both an intercollegiate, and intramural level. Learn more about intercollegiate athletics at New College at our new athletics homepage, GoMightyBanyans.com.
The dedicated coaches of the teams here at New College are all highly credentialed, each boasting decades of experience, and most of whom played their respective sport professionally.
Like Student Clubs & Organizations, sports offered at New College are driven by current students. Can't find what you're looking for? You can make it happen!
Sailing Team
Join the sailing team - no experience necessary, we will teach you! The Sailing Team competes against other universities.
Rowing
The New Crew SRQ cross-collegiate rowing team practices daily at the world-renowned training and competition facility at Nathan Benderson Park. The team provides New College students, staff and alumni of all skill levels the chance to learn and train at the venue, which has hosted numerous national and international championships and regattas since 2017. The team has a track record of placing well at regional regattas.
Rock Climbing
One of the most popular club sports on campus, the rock climbing club accepts members of all skill levels to climb together and organize trips, including to the exceptional climbing gym a short drive north to St. Pete.
Tennis
New College's tennis team holds regular practice every week at the two lighted hard courts. The team recently played against Ringling College of Art and Design. "Tennis has definitely helped me manage my stress and stay healthy while at New College, and it's far easier to exercise when you're doing something fun and enjoyable," student David Smith shares.
Swimming
The Octopodes, New Colleges swim team, provides a place for competitive swimmers to flourish, as well as a place for students to improve their mental health. The club welcomes swimmers of all levels, and competitive swimmers compete in the College Club Swimming league with USA Masters swimming. The club has three practices a week in the Recreation Center's 25-meter pool.
Basketball
In the Sunshine State, it's never too cold to go out and play basketball, but if it was, that wouldn't stop the New College basketball team! As an intramural team, they pride themselves on inclusivity, and competitiveness. Also, being one of the older sports at New College, the team has a long history of excellent coaches, and talented students.
Soccer
The New College soccer team plays in recreation leagues in the Sarasota-Bradenton area. They also have a long-running rivalry with Ringling College of Art and Design. "Before coming here I was shy, and I was uncomfortable taking initiative and making good work great. But in my first year I met some fantastic people in Soccer that weren't just role models, they were great friends," student Bennet Bastian says.
Powerlifting
A testament to the strength of the Novo Collegians, the powerlifting team is one of the newest and most active sports here at New College. After only being around for a year, the team participated in the 37th annual USA powerlifting Florida state championships, and walked away with two first place trophies, and one second place. The team also holds regular "mock meets" on campus to prepare for the championships, fun moral-building events for all students.
Discover So Many More Sports Clubs
New College students organize and direct clubs each year in sports as diverse as flag football, scuba diving with the Bull Sharks Diving Club, ultimate Frisbee, sand volleyball, aerial yoga, and even roller skating.

Indoor and outdoor facilities are available for all kinds of exercise, as well as yoga and dance classes.

Check out Sarasota Bay and the surrounding area by kayak, sailboard, or boat!